From 6 months to 60 – here's what to expect
Taking care of your Toyota is easy when you have the right maintenance road map. Our experts recommend following a regular maintenance schedule of coming in every 6 months or 8,000 km, to keep your Toyota running like new. Servicing your vehicle regularly not only maintains its high value, but it's also more cost effective than waiting until it's time to make big repairs down the road. We'll take you through what your maintenance schedule could look like for the first few years, as well as what you can expect at each regular service appointment with your Toyota dealer.
TIP: Putting a 6-month reminder in your calendar now will help you keep up with your vehicle's maintenance schedule!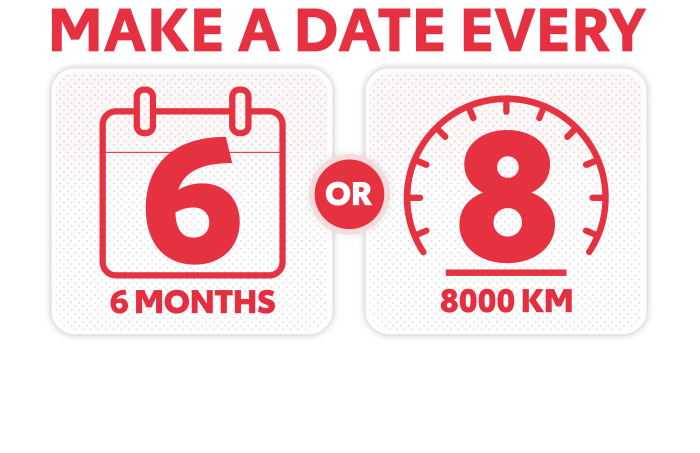 6 MONTHS OR 8,000 KM: COME IN FOR YOUR FIRST SERVICE APPOINTMENT
It's your first service appointment with Toyota! When you bring your vehicle in, we'll make sure everything is running well after your first few months of ownership and answer any questions you might have. Plus, our Toyota University Trained Technicians will:
Just like medical professionals keep track of patient health by filling out charts, our experts record all inspection results, measurements and component conditions.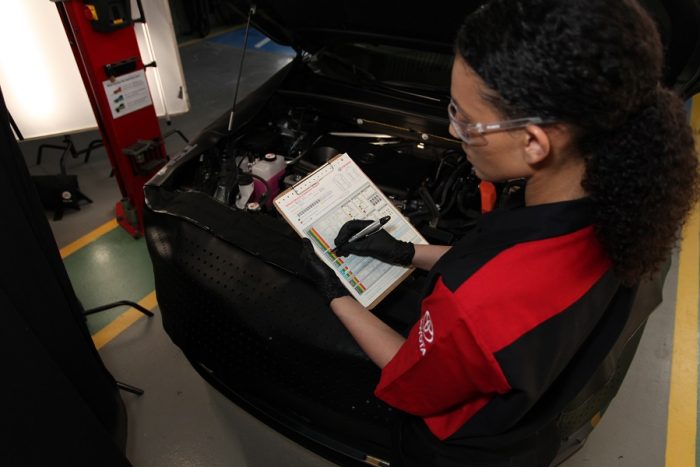 12 MONTHS OR 16,000 KM: TIME FOR YOUR 1-YEAR SERVICE APPOINTMENT
It's been a year since you got your Toyota vehicle! During this service appointment, our experts will complete the same checklist as when you brought your vehicle in at 6 months or 8,000 km, and they'll also replace your engine oil and filter. This will help prolong the life of your engine while ensuring it runs at its best.
18 MONTHS OR 24,000 KM: KEEPING UP WITH YOUR MAINTENANCE SCHEDULE
Bringing your vehicle in for service every 6 months is like regularly going to the dentist – it's best to keep up with your vehicle's maintenance schedule to make sure everything is in tip-top shape. At 18 months or 24,000 km, it's time for your next service appointment. Toyota University Trained Technicians will conduct the same 6-month/8,000 km checklist to make sure your vehicle is in optimal condition.
24 MONTHS OR 32,000 KM: SERVICE AT 2 YEARS
After 2 years, your Toyota drives like a dream. That's true because you've kept up with your regular maintenance schedule and trusted our experts to keep your vehicle running smoothly. During your 24-month or 32,000 km service appointment, Toyota Technicians will complete the 6-month/8,000 km checklist, plus they will:
Remove brake calipers and/or brake Inspect and measure brake rotors, drums, pads and shoes
Service the 12-volt battery and evaluate the electrical charging system
Inspect valve clearance by listening for irregularities
Check steering gear, linkage and shock absorbers
Take a look at ball joints and dust covers
60 MONTHS OR 80,000 KM: SERVICE DOWN THE LINE
Keeping up with your regular maintenance schedule of every 6 months or 8,000 km will help ensure your fluids are topped up, your tires are in great shape and your vehicle is performing like it did when you drove it off the lot. At 60 months or 80,000 km, Toyota University Trained Technicians suggest a Toyota Combustion and Electronic Fuel Injector System Cleaner Service for vehicles with gas engines. This service is a 2-step process that can help maximize your vehicle's fuel efficiency by cleaning build-up from the fuel injectors.
Did you know? Toyota Technicians only make repairs and replacements with Toyota Genuine Parts that are designed specifically for your vehicle, so you can experience peak performance on every drive.
BRING YOUR VEHICLE IN FOR SEASONAL PARTS AND SERVICE
Certain Toyota Genuine Parts are suited best for certain seasons. When you bring your vehicle in for a service appointment, ask our experts about our seasonal parts and services.
Toyota Air Conditioning Refresher Service: This service removes unwanted build-up of dirt, residue or contaminants. The best time to get an A/C service is when your Toyota Genuine Cabin Air Filter is replaced, or at the beginning or end of summer to restore that fresh smell to your HVAC unit.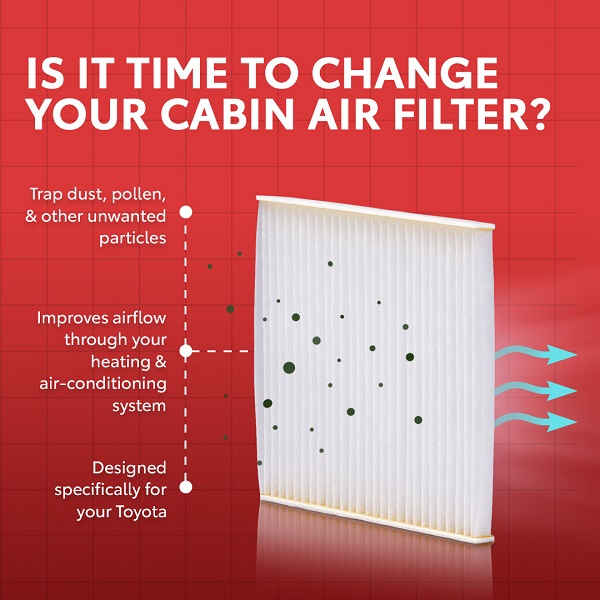 Toyota Touch Cleaning and Detailing: Keep your Toyota looking brand new and protected from the elements with our Toyota Touch products and services.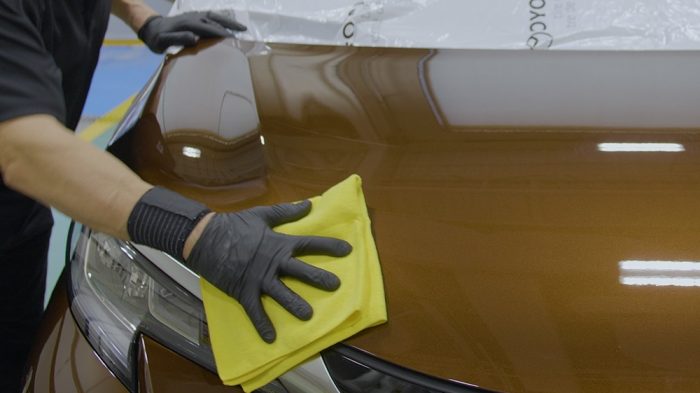 STAYING SAFE IN THE WINTER:
Toyota Winter Wiper Blades: Some wipers are designed for specific seasons. Switch to Toyota Winter Wipers when changing to winter tires, so you can maintain clean vision and stay safe during severe winter conditions.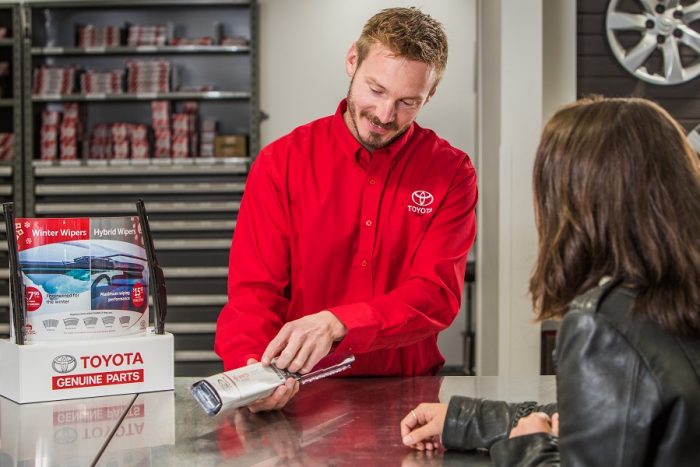 Winter tires: Our tire experts recommend switching to winter tires when the average daily temperature falls below 7 ºC.
If you don't already have winter tires, or are in need of a new set, use our Tire Selector to see which tires are the best fit for your vehicle.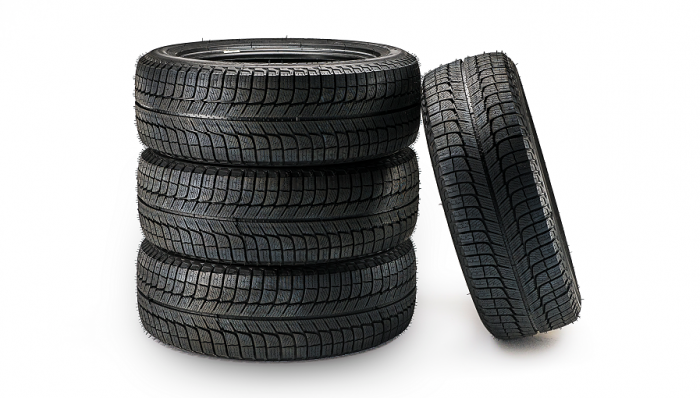 GET YOUR SERVICE APPOINTMENT IN THE BOOKS!
Now that you know what's included in each of your service appointments, you'll be better prepared for your next visit – knowledge is power! Remember, keeping up with your regular maintenance schedule of every 6 months or 8,000 km will ensure your vehicle is in optimal performance for every adventure you embark on. As always, Toyota experts are here for you if you have any questions about maintenance or Toyota Genuine Parts.
Stay connected with Toyota Canada by registering for email updates. You'll get personalized vehicle tips and information, exclusive offers and more delivered straight to your inbox.